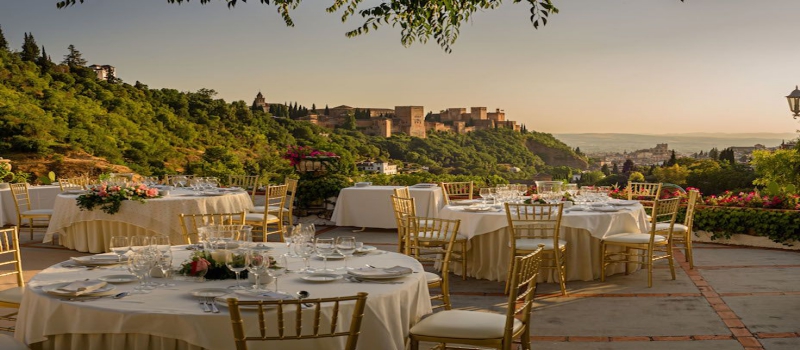 Make your wedding day memorable in the midst of the pleasant Mediterranean weather and the overwhelming panoramic views of the countryside places in Spain. Celebrate the beginning of your new life in the most exotic venues that offer stunning beach views and lovely indoor ballrooms to make your wedding the most splendid one.
If you are confused about what to choose and where to stay, you can hire the top luxury event planners, which can help you, choose the best place for you and will arrange everything right from your pre-wedding shoots to tying your knots in the heavenly church.
Here are some of the sensational wedding venues you can choose from:
The Sunset Beach Club: If you fancy a romantic beachside wedding, the Sunset Beach Club is the best option for you as it offers exquisite panoramas with the bright blue waters and coral background to make the ambiance most romantic and delightful. It has a lot to offer whether you want an indoor or an outdoor wedding.
Casa La Siesta: Want a countryside wedding? Look no more and book the lovely Casa La Siesta house in the Cadiz countryside that has a pretty rose garden to give that extra special feeling of romance and love. You can also get married at the quaint old church and then return to Casa La Siesta for the reception. Here you can also hire a luxury wedding planner who will help you organize everything to make your day commendable.
Villa Nicolai: If you want your wedding to take place in the midst of the mountains, the Villa Nicolai has got something for you. Situated in the town Nerja, the town has got a breathtaking scenic beauty where the mountains meet the sea and provide great delight and adventure to your guests as well.
The other venues include Can Morato, La Cala Resort, Casa Felix, Los Monteros Spa and Golf Resort, and many more.
Consulting a local splendid wedding planner
A great idea to make your wedding celebrations admirable is to hire a wedding event planner who has years of experience in the field. With their local knowledge and expertise, these wedding planners ensure a remarkable Spanish wedding with a touch of Mediterranean flair.
Planning a wedding outside your country is a daunting task, but the friendly service offered by the wedding planners will help you plan the wedding of your choice and dreams. They will take care of all the arrangements and make your wedding experience stress-free.