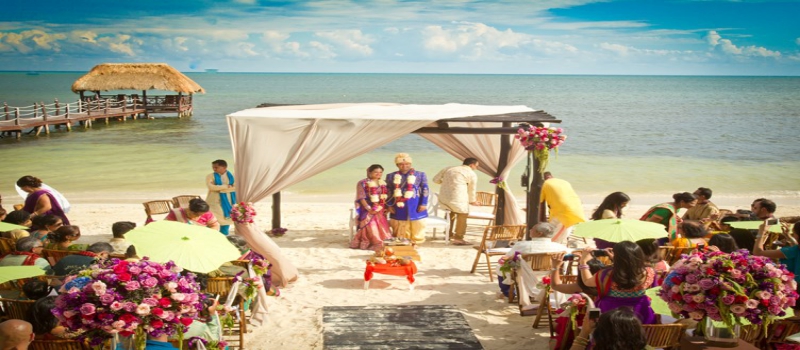 The destination weddings are becoming more popular every day as every couple dreams of a romantic unique wedding. However, far-flung overseas venues are appealing but they add many logistical challenges to the planning process. So, it is always preferred to exchange vows in some of the grand destination wedding venues in the US.
The United States has balmy breezes of the Caribbean to the majestic castles; find most breath-taking and popular luxury weddings destinations create romantic memories of a lifetime relationship with your family and friends. Usually, couples spend ample of time in planning the best in deciding the place to celebrate on the most beautiful and striking destination for wedding ceremonies.
Here are some fabulous wedding destination spots in the US offering amazing views, cultural experiences and top-notch service.
Key West, Florida
There are many wedding venues in South Florida known for their quirkiness and distinctive locations ranging from tropical gardens to yacht cruises. There are a number of venue options packed onto islands, historic homes, with the best art galleries and active nightlife providing your guest plentiful things to do during the visit. Even if Key West is only a few squares in size, many venue options can be found in this place for different wedding themes and functions.
Las Vegas, Nevada
Las Vegas is called the Wedding Capital of the World because it has many venue options to select from. Moreover, it is very cheap to get married here owing to the presence of many wedding and event planning companies here. There are many posh hotels, kitch chapels in Las Vegas Boulevard for hosting the big day in Sin City for making the day more unforgettable and pleasurable.
Napa Valley, California
There are many couples who always fantasize about marrying in a place with good wine and beautiful views. Then, Napa Valley wedding serves its purpose with charming vineyards and stylish wineries with many wedding in the area. The breathtaking and magnificent scenery creates a romantic and dreamy Northern California experience for your wedding day.
The United States is surrounded by the Pacific and Caribbean coasts, giving incredible diverse beaches. There are outstanding black-sand beaches originating from volcanic ash and famed surf towns, and on the contrary, Belize's Caribbean waters have white-sand beaches which are powdery and have easy access to banks. There are numerous options for couples wanting a wedding on land, green mountains and numbers of national parks that are perfect for horseback riding, hiking, and other exploration.