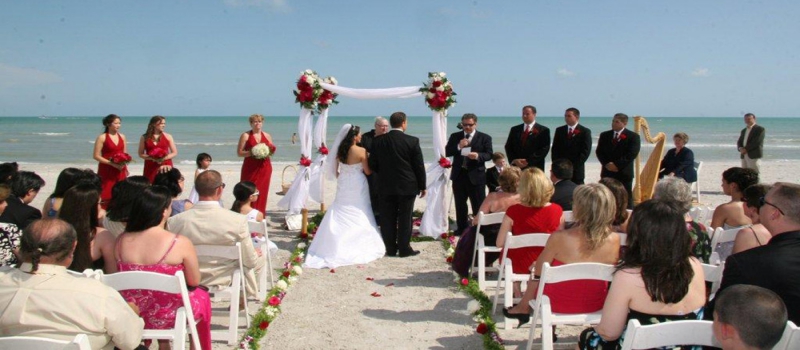 If you have ever dreamed of your wedding in some fairyland, turn your dream into reality by planning your destination wedding in Florida. Many of the couples consider Florida as the best place for a wedding as well as for honeymoon. This island of paradise has beautiful beaches, royal accommodations and lush green flora all around that you will be overwhelmed in the lap of nature.
Florida destination wedding has endless possibilities. You can tie your knots in any number of fabulous locations. Every place is worth getting explored. You can even book a church in Florida or if you want to experience that fresh air while exchanging vows, you can plan for a beachside wedding.
Do you know why Florida Weddings are so popular?
Florida weddings are known for their mesmerizing experience. The wedding guests love destination weddings in Florida as they get a chance to enjoy a magnificent and relaxing holiday while attending the special day of their special ones.
Florida destination weddings are affordable for the couple as well as for the guests. Hotel rooms or vacation rentals are available at a reasonable price. The flights to Florida are also inexpensive thus having weddings in Florida can save your dollars while giving you the best experience ever.
Florida has a great weather so you can plan your wedding in any part of the year. You can choose the destination according to your requirement.
Ranging from the dazzling Miami beach weddings to the Orlando Disney weddings, Florida has countless places to overwhelm you with its beauty. There are numerous Beach wedding venues south Florida that can make your special day more charismatic and delightful.
Best time to plan your wedding in Florida
As per some analysis, the hurricane season in Florida comes between June and November but that doesn't mean you have to avoid those months of the year. It's not always the same weather, sometimes it's all clear so you don't have to worry about that. The least rainfall occurs in the months of April and November, the month of June typically experiences the most rainfall.
It is great if you plan your wedding in April and May as there is less chance of rain and the weather will be pleasant to suit your needs.
Wedding venues in South Florida include the vivacious Miami Beach weddings. The relaxed beach aura and the turquoise seashore gives a romantic milieu that adds ultimate delight and spark to your wedding.